"Geleceğimi Çöpe Atma!" Projesinin Basın Toplantısı Gerçekleştirildi/ "Do Not Dispose My Future!" Press Conference Held At Çukurova Association Of Journalists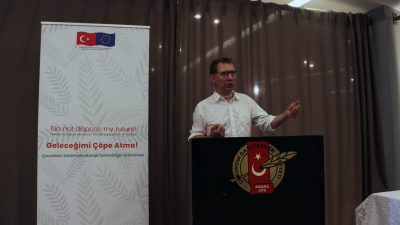 "Geleceğimi Çöpe Atma!" Projesinin Basın Toplantısı Gerçekleştirildi
Sivil Toplum Destekleme Programı üçüncü dönemi kapsamında desteklenen "Geleceğimi Çöpe Atma!" projemiz, 11 Haziran 2021 Perşembe günü Çukurova Gazeteciler Cemiyeti Sosyal Tesisleri'nde gerçekleştirilen basın toplantısıyla kamuya duyuruldu. Basından, sivil toplum kuruluşlarından ve proje ortaklarından temsilcilerin katılımıyla gerçekleştirilen basın toplantısında Proje koordinatörü Çiğdem Aksu Çam projeyle ilgili bilgilendirme yaptı ve projenin başarıya ulaşmasında, projenin yerel paydaşlar tarafından sahiplenilmesinin önemine dikkat çekti. Konuşmasında ayrıca, çevre ve iklim değişikliği sorunlarının ve bunlara karşı gerçekleştirilecek eylemlerin adalet kavramıyla doğrudan ilişkili olduğuna değindi: Toplumsal adalet ve kuşaklar arası adalet. Çocukların da çevre sorunları ve iklim değişikliği tehdidi karşısında en kırılgan gruplardan olduğunun altını çizdi: "Özellikle dezavantajlı grup çocuklar çevre kirliliğine en çok maruz kalan gruplar arasında ve bu durum toplumsal eşitsizlikler yaratmaktadır. Aynı zamanda, bizler gelecek kuşakların sağlıklı ve temiz bir çevrede yaşama olanaklarını ellerinden alarak kuşaklar arası adalete zarar veriyoruz".
Projemizin Polonyalı ortağı Kalkınma Politikaları Vakfı Yönetim Kurulu Başkanı Wojtek Szpociński de basın toplantısında kısa bir konuşma yaparak, Uçan Balon Çocuk ve Gençlik Derneği'yle işbirliklerini devam ettirmekten ve iklim değişikliğiyle ilgili eğitime odaklanan bir projenin parçası olmaktan ötürü duydukları memnuniyeti ifade etti.
Do Not Dispose My Future! Press Conference Held at Çukurova Association of Journalists
Our project funded under The Civil Society Support Grant programme – III, entitled "Do Not Dispose My Future!" is introduced to the public via a press conference held at Çukurova Association of Journalists Social Facilities on June 10th, 2021, with the participation of local journalists, representatives from Adana Citizens' Assembly, and Project partners. After the welcome remarks of Fazilet Aksu, Head of the Flying Balloon Child and Youth Association, the Project coordinator Çiğdem Aksu Çam introduced the project and called for support from all stakeholders in Adana. She reminded that ecological problems and action against ecological problems are closely linked to the concept of justice; intergenerational justice and social justice, and that children are amongst the most vulnerable groups against the threads of environmental problems and climate change.
She concluded her presentation by emphasizing the success of the project depends on the interest shown to the project from local actors of all type; NGOs, public institutions, citizens platforms, education institutions, etc.
Head of the Board of the partner organization Development Policy Foundation from Poland, Wojtek Szpociński, thanked the audience for their interest and expressed their gratification for being a part in a project on such an important and hot-topic issue.